Instruction for Presenters
General Session (Oral)
Location
Large Conference Room "Dahlia 2" (B-2 Level)
Format
7 minutes for oral presentations followed by 3 minutes for discussion.
Speaker information

You can use your own laptop computer with mini D-sub 15pin VGA output for the presentation. Please do not forget to bring your own power adapter and conversion cable. the oral session room will be equipped with an LCD projector, screen, lectern, and microphone. No public PC is available in the oral session room.
Please come to the "Next presenter's seat" of the session room prior to the beginning of your session. Staffs at the conference room will help your PC connection to the projector.
We recommend you to connect your laptop computer and check your presentation on the screen in advance.
Oral presenters are recommended to bring a Windows 10 compatible PowerPoint file on your USB memory stick or CD/DVD media.
General Session (Poster)
Location
International Conference Hall "Himawari" (B-1 Level)
Format
Presenting author will be required to be present at their poster display during the designated time of the poster presentation session in order to interact with participants.
Poster Presentation Display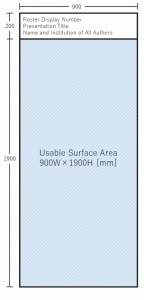 A 900 mm width and 2100 mm height ( 900W×1900H mm usable surface ) display board marked with your poster display number will be provided. Pushpins will be available on-site for mounting the display boards.
NOTE: If your travel schedule does not allow you to "display" or "take down" your poster during the designated times listed below, please make arrangements with a colleague to display or take down your poster. Any displays remaining after the designated take down time will be discarded. Pushpins will be provided at your poster display. You must bring any other supplies needed to mount their posters.
Posting Schedule
Set Up Time: Friday, October 20 (9:00 am – 3:00 pm)
Poster Presentation Session: Saturday, October 21 (11:20 am – 11:50 am)
Viewing Hours: Saturday, October 21 (8:00 am – 11:50 am)
Take Down Time: Saturday, October 21 (11:50 am – 1:00 pm)
NOTE: Double check that you are putting your poster in the right location.
Awards
Special awards are giving by the president for the outstanding research and the best presentation skill.
Award for the best research
Award for the best presentation skill
President's special award